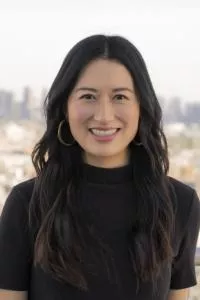 Deputy Executive Director
Christina (Tina) Oh is the Deputy Executive Director of the Los Angeles City Tourism Department (CTD), where her responsibilities include implementing the City's first Tourism Master Plan as part of the department's effort to position Los Angeles as a world-class tourist destination.
Oh has worked in public affairs and communications in the private, public and nonprofit sectors. Prior to joining CTD, she served as Vice President of Public Affairs for Central City Association, where she led initiatives to support workers, visitors and residents in Downtown Los Angeles and to enhance the vibrancy of the neighborhood. She was External Communications Manager at Walt Disney Parks and Resorts and was on the grand opening team of Shanghai Disney Resort, a $5.5 billion project and the first Disney park in mainland China. She also served as an aide to Los Angeles Mayor Eric Garcetti in various capacities in his Mayoral administration (Executive Officer), 2013 Mayoral campaign (Research Director) and City Council office (Legislative Deputy). Additionally, she was on the research team for Senator Barbara Boxer's successful reelection campaign in 2010.
Oh received a Bachelor of Arts in International Studies – Political Economy from University of Washington, Seattle, and a Master of Arts in International Studies from Aarhus University, Denmark. She lives in Silver Lake with her husband, daughter and dog.