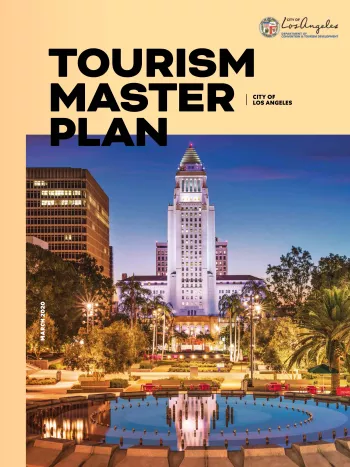 The Los Angeles City Tourism Department (CTD) recently completed a Tourism Master Plan that will help the City enhance both the visitor experience and the quality of life of local residents and businesses. CTD is now leading the implementation of the plan.
Read or download the full Tourism Master Plan or two-page summary.
This Tourism Master Plan creates a strategic vision that identifies a path for sustainable growth of tourism in the City. CTD engaged the international destination strategy experts at Resonance Consultancy to create this destination management plan, and it was crafted in partnership with industry stakeholders and the local community through interviews, meetings, events and surveys. The plan analyzes data from competing cities; advises on gaps in our infrastructure, products and services; suggests changes and investments; and creates implementation plans for long-term action and results.
Read the Recommendations:
To realize this vision for LA, the TMP provides 22 recommendations in 7 strategic areas of focus:
1.  DESTINATION STEWARDSHIP

1.1  Create and Implement a Sustainable Tourism Program for Los Angeles

1.2  Engage and Monitor Resident Sentiment Towards Tourism

1.3  Prepare a Crisis Management Plan

2.  DESTINATION DEVELOPMENT

2.1 Support the Expansion of the Los Angeles Convention Center

2.2 Support a New Hollywood Visitor Center and Scenic Aerial Tramway or Gondola to the Hollywood Sign

2.3 Support the Hollywood Walk of Fame Master Plan

2.4 Increase Neighborhood Tourism Development

3.  DESTINATION PROGRAMMING

3.1 Develop and Position Los Angeles as a Leading Destination for Sports Tourism

3.2 Develop and Position Los Angeles as a Leading Center for Creative Tourism

3.3 Develop and Position Los Angeles as a Leading Culinary Destination

3.4 Develop and Manage a Citywide Festival and Events Strategy

3.5 Celebrate and Promote LA's Rich Cultural Diversity

4.  VISITOR ACCOMMODATIONS

4.1 Increase Short-Term Rental Collaboration

4.2 Identify and Advocate for New Hotel Development Opportunities

4.3 Monitor and Improve Visitor Satisfaction with Current Hotel Accommodations

5.  VISITOR MOBILITY

5.1 Reduce Usage of Cars by Visitors to the City

5.2 Support the Redevelopment of Los Angeles International Airport

6.  VISITOR INFORMATION & COMMUNICATIONS

6.1 Research and Monitor Visitor Behavior

6.2 Communicate and Inform Visitors

6.3 Modernize and Improve Wayfinding

7.  DESTINATION MANAGEMENT

7.1 Establish Los Angeles Tourism Cabinet and Chief Tourism Officer

7.2 Improve Regional Cooperation